Well hello everyone, It's Jonny, and i'm new to blogging, but not to the online forum world. Quick introduction of myself: I'm a college student currently, and am in love with VW's and Audi's. I own a 2001 Jetta 1.8t with a ko4-20 turbo swap. I do a lot of reviews and DIY's on VW performance products, only to better the VW community that i love so much. Now onto the current review i have!
Forge released the Splitter valve a short time ago, and everyone was stunned with its claimed capabilitys. An essentially 50/50 valve, half Divereter valve(DV), half Blow off valve(BOV). To the volkswagen world, this had a lot of people saying: having a BOV sound without the check engine light!? AWESOME! Where can i buy!? What it really does though is divert 70% of the air back into the intake, and let 30% of the air into the atmosphere(like a BOV). I personally wanted one at the time, but wanted to focus on other areas of my car first, as i already had a Forge 007 diverter valve. Finally the time has come, and i have gotten one for my car.
First looking at the valve, its a great piece, i mean you can tell this took some effort to put together, long hours of thinking have gone into this. I personally went with the black one, but there is also a polished valve available as well.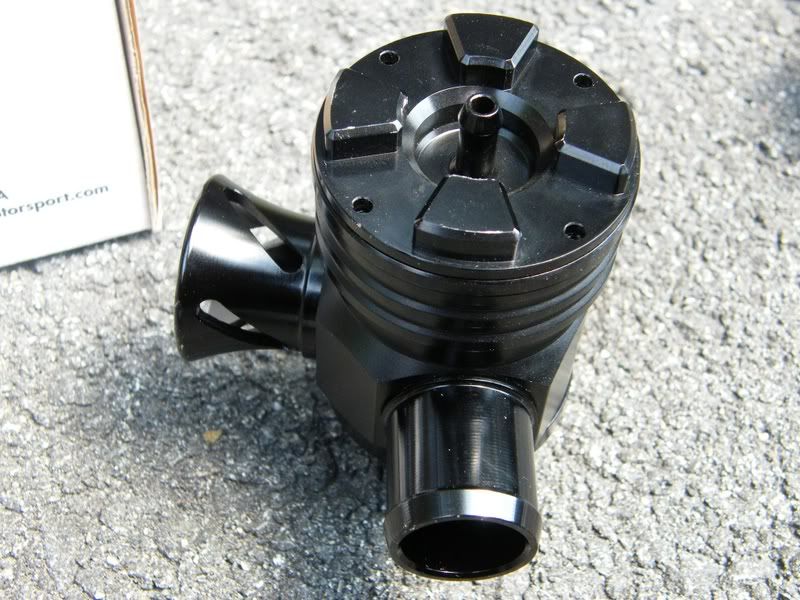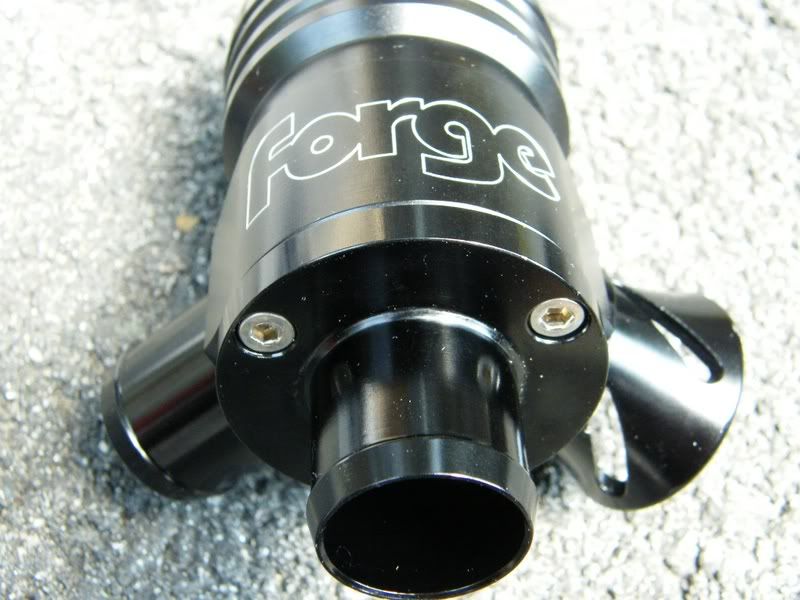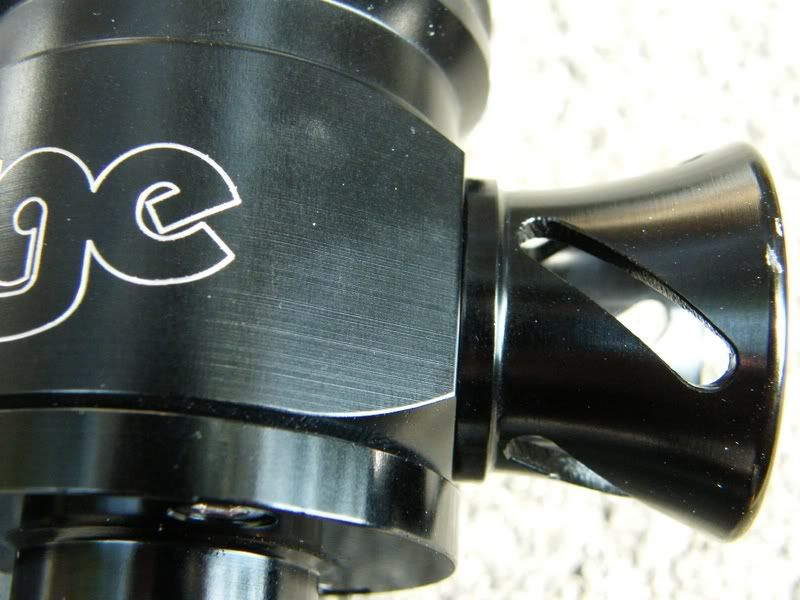 The Valve is fully adjustable, as the top of the the unit can twist, clockwise or counter clockwise to tighten or loosen the valve to suit the amount of boost you're using. I still have to fine to mine as i'm getting a little fluttering at highboost, but nothing that can't be adjusted. After tinkering with it, and finding an extra piece in the box, i realized that this valve could be converted to just a diverter valve as well. These next pictures should describe how to switch it fairly easily:
With that being said, why NOT buy this valve?! you can try the BOV side with the DV, see how you like it, if you don't, then you can block off the BOV part and have a fantastic piston driven, single spring DV. Many of you might not know the difference between an adjustable piston DV and a spring piston DV. The Forge 007 DV is a spring driven diverter, meaning it needs different springs to hold different amounts of boost. For Ex. If you're stock running a 007, you need the green spring in it, because its rated for 6-10 psi. If you're chipped, you need the yellow spring because it holds 17-22 psi. So you have to change springs, and lubricate the unit, etc. It gets to be a pain. The adjustable piston driven diverter, is fully adjustable, has one spring, and it can handle 7 psi fine from a ko3s, or can handle 24 psi from a ko4-20 or even a gt28rs and above, etc. No changing springs here! You just have to fine tune it to each car and adjust accordingly. To me, the single spring piston diverter seems to be the better of the two, and im glad that forge went that route with this valve.

Back to business! I decided for this review to test it on 2 turbos, so that you can really get a feel for the valve. I tested in on a ko3s on an AWP 1.8t motor on an 05 GTI, owned by Jon, aka __gti02 on vwvortex. Performance mods he has that would be factors in this valves performance are, GIAC X+, Forge 007 DV, Cold air intake, and a 2.5" catback. I'd also like to add that the sound deading material on the underside of the hood was taken out as well. Take note of the cold air intake, because it exagerates turbo spool, and even with the 007 DV, its very loud. He spikes at 22 psi and usually holds around 19-20. A couple pics of his car here: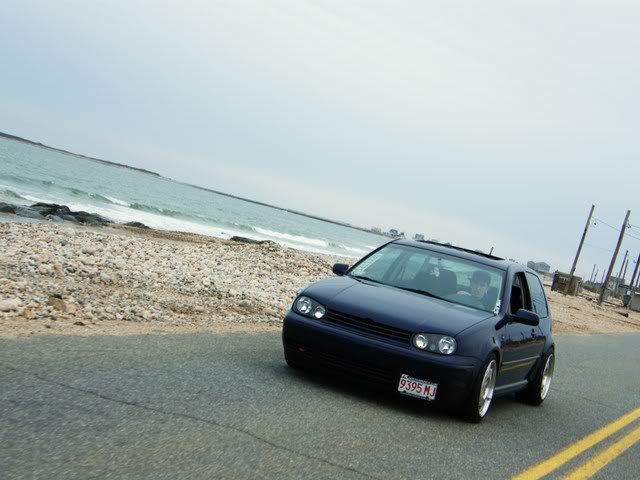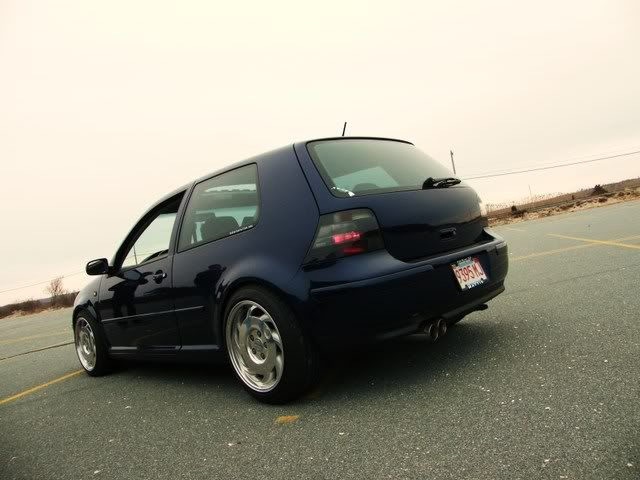 Installation on his car was a breeze, pop out the 007, and plug the new splitter in. It took all in all maybe 5 minutes because we had to run a new vacuum line because his old one cracked when we were taking it off. Here are some shots from the installation: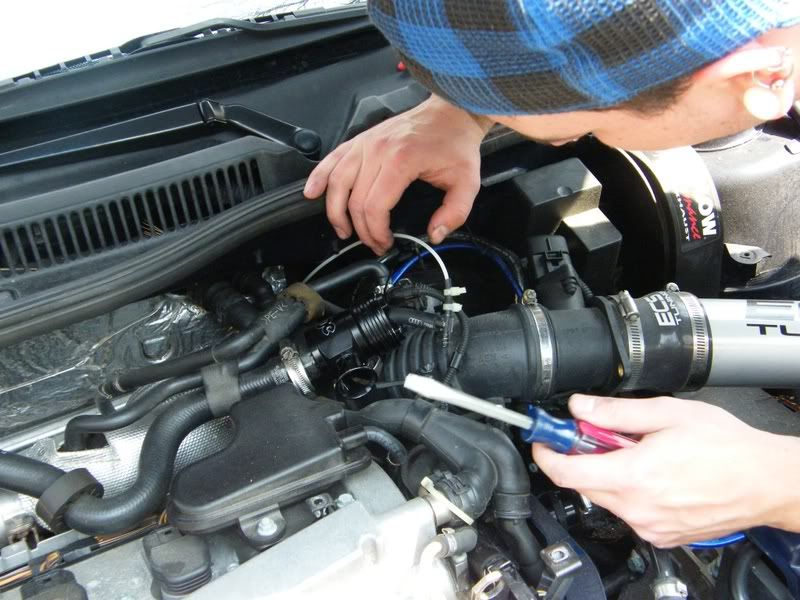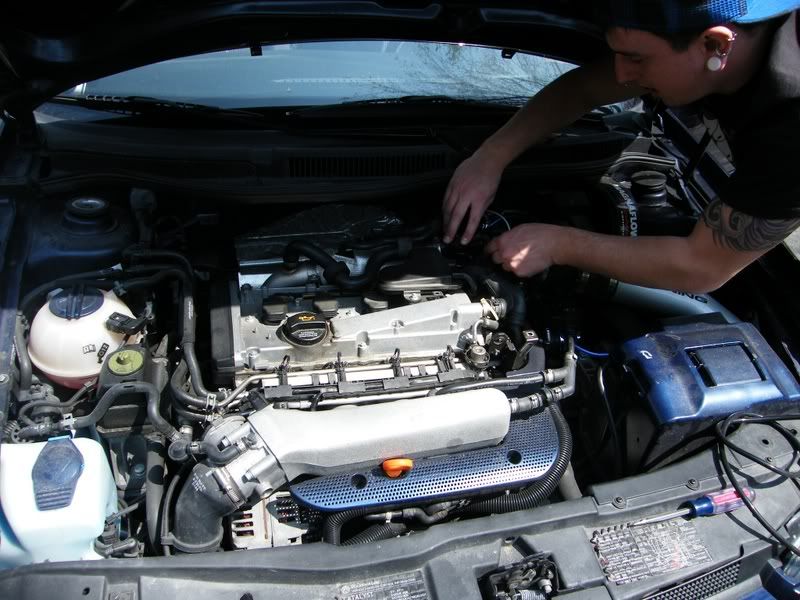 I just want to note, that when installing, MAKE SURE IT LOOKS LIKE HOW WE INSTALLED IT! That is the proper way to install, DV side into the intake and the bottom of the valve plugs into the hose going to the intercooler piping. It WILL NOT work right if installed the wrong way, so be sure to make note of that when installing yourself.
After installing, the results from the ko3s were pretty impressive. It was still pretty quite inside of the car, just like the 007 was, but outside was a LOT louder. You could here the pssshh all the way down the street if its a quite day. Response with boost, noted by Jon, was not as jerky into boost like the 007 was, which to him was a bad thing, but some people like it. When pushing the gas in the 007, boost would just hit and you'd be off. With this valve, as described by him, his car was smoother, with initial boost, not as hard as the 007 was.
We both took note about the fact that the BOV part of the valve didn't sound much like a BOV. It was loud, don't get me wrong, but it wasn't sounding like a BOV, it was just a louder Psshhh. BOV's are squeeky, and have a very unique sound to them, when you hear one walking done the street, it makes you turn and look, wondering what the hell that sound was. Now we're not saying we want some squeeky sounding squirral on our cars, we just wish that this valve had a little bit of a squeek, or unique sound to it. Don't get me wrong though, it sounds fantastic, its just nothing out of the ordinary. To hear what it sounds like, be sure to check the video i made at the bottom of this page on both cars, i think it represents both of them really well.
Now onto my car! installation on mine was more of a pain, because i have a front mount intercooler and its all aftermarket stuff under my hood. Performance mods that would matter to this write up that i have done to my car are: Ko4-20 turbo + mani, 380cc injectors, GIAC ko4-20 93 tune and race file, 2.5" turbo back exhaust, n75 j valve, FMIC, Forge 007 dv, and a Forge ko4-20 Turbo inlet pipe. The sound deading material on the underside of the hood was taken out as well. A couple pics of my car:
Installation was pretty straight forward on my car as well, just in a tighter space than on Jons car. It took longer because of that, and just thinking how to reroute the piping to the valve. I had to adjust some pipes just a little, but all in all i got it in within 10 minutes i'd say. Some pics of the install: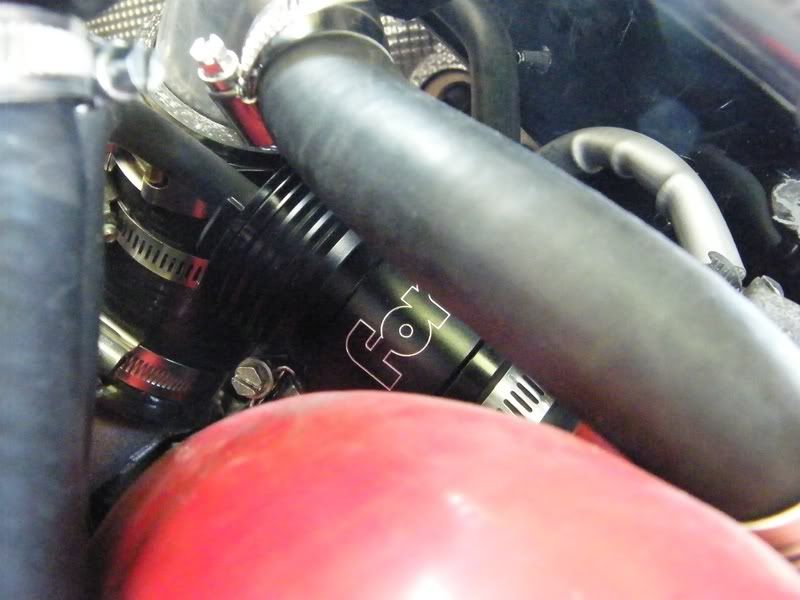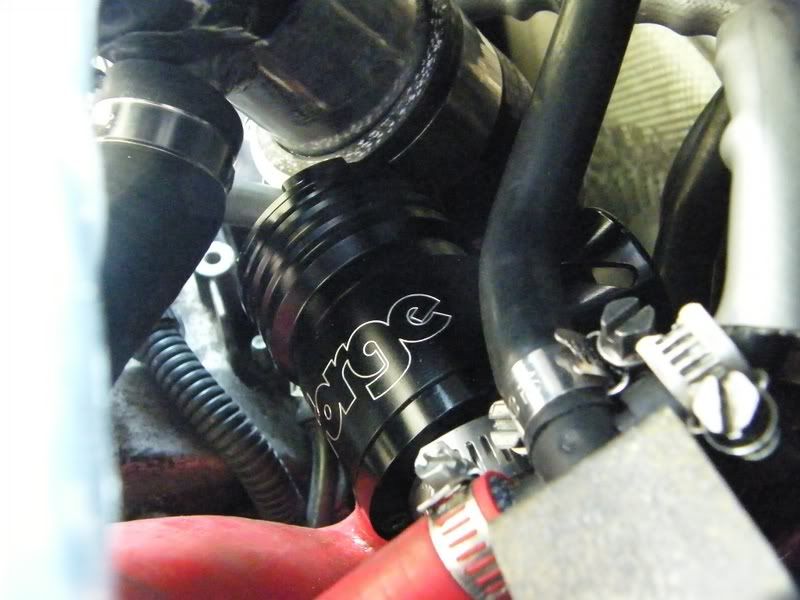 The only thing that i was dissapointed with the install on my car was that the cone for the BOV part was facing towards the back of the car. Hopefully with the pictures you can see what i mean. I don't know if it was facing forward it would be louder in the front of the car, but the way its facing now makes it really loud in the car. I like that, but i just would rather have it be facing the other way, making it louder outside.
Some thoughts i had about the valve is that like i said before, i wish it had some uniqueness to its sound. I really like the way that it runs on my car, my higher boost is smoother but it still kicks hard with initial boost. Its loud inside the car and outside the car, and with the windows up, it lets out a "cahhhhh" sound (you have to say it outloud to get it). It's like an intial kick of sound followed by a smooth exit. I really like it. I still have to adjust it as i said earlier, but during this entire test we didn't adjust the valve at all. It held up very well between these two turbos. Once fine tuned to my car, the fluttering will go and be replaced with stronger higher boost, its something that has to be done, no matter what the car.
At this time i'd like it if you could watch this short video i made about what i've just talked about, it'll give you a visual and audio feedback to back up what i've just been talking about.
Watch it here
:
http://www.vimeo.com/938006
Summing up everything that I have experienced this valve thus far, i can say these things:
Pros:
-Great design
-Easy to install
-Fully adjustable
-No check engine light with louder sound (thus far, will be updated if changed)
-Can be changed to just a DV if desired
-Not a bad price
Cons:
-No real uniqueness in sound like a BOV does
-Based on 1 car - boost does initially hit as hard on ko3s (only tested with 50/50 mode, not just DV mode)
-On the ko3s, it was a little too quite inside the car
Overall, i would def recommend this valve, if in the market to get one. You can have the loudest valve on the market today, and if you don't like it, you can just change it to the quiter DV, no selling or buying anything else involved. To me, this makes the most sense, buy something that has 2 options for 1 price. Forge did a fine job crafting this piece and it really shows in performance as well as looks. I rate things out of 5 usually, and with this, it gets a 4.5, just because of the minor flaws overviewed in the cons.
Would i buy it if i were you?
Yes i def would
Is there another product i would recommend?
For 50/50 valves in this price range, i would say no way, this one takes the cake.
Does this solve the anweser to having a BOV noise on a DV driven car?
No, but it's definitly a start.I give it a 4.5 out of 5 rating.J-tec Recommended